We prefer this brand because…...
"Osteoprime Forté" has been a mainstay of our bone-building support for our patients for many years, with excellent results. We view it as a high-vitamin K formula that also delivers boron and silicon which have key roles in bone building, along with an excellent array of other nutrients needed for new bone formation. "Osteoprime Forté" includes an ample amount of magnesium that is essential for the production of parathyroid hormone which activates vitamin D to move calcium from the gut into the blood, and for bone metabolism: about 50% of all the body's magnesium is found in bones. It also has zinc which is necessary for functioning of bone-building osteoblast cells and for development of bone proteins. Manganese is required for the collagen matrix that forms bone architecture, and for calcium to be deposited in that framework. Silicon and vitamin C are also required to develop collagen and its cross-links and other structural proteins during bone formation. Vitamins B6, B12 and folic acid help clear homocysteine, a metabolic waste product that can accelerate bone loss. "Osteoprime Forté" provides calcium in five different forms for more complete bioavailability: each type has different quantities of calcium and its own level of absorption. Tricalcium phosphate is included because is the most prevalent form of calcium in human bone. Overall, this formula is a unique broad-spectrum support for bone density, and it is a key part of a protocol for reversing bone loss for many of our patients.
About vitamin K1, boron and silicon
Vitamin K1 helps to regulate where calcium goes in the body. It activates several bone proteins including osteocalcin, which holds calcium in place within bones and teeth, and diverts it away from arteries and soft tissues. Low vitamin K1 is linked with osteoporotic hip fractures, and research shows that the lower Vitamin K1 levels are, the greater the severity of fractures. Osteocalcin is the major non-collagen protein found in our bones, and without enough vitamin K1, bone quality declines due to poor osteocalcin activity. Recent studies suggest that vitamin K1 may also help prevent fractures by increasing the tensile strength of bone, or by anchoring calcium more securely, rather than increasing the amount of calcium in bone. This may not necessarily show up on Dexa scans: Low vitamin K1 levels are linked with fractures but not necessarily with low bone density on imaging, and taking vitamin K can reduce fracture rate but not necessarily affect measured bone density.
The term "vitamin K" refers to a group of fat-soluble compounds called naphthoquinones. These are essential nutrients as naphthoquinones cannot be synthesized in the human body. Vitamin K1, or phytonadione, is the natural form of vitamin K found in green leafy vegetables such as spinach, chard, and parsley, brassicas such as cabbage, kale, broccoli, and cauliflower, and fruits including avocado, kiwi, and grapes. Vitamin K1 is absorbed from the duodenum and jejunum via the lymphatic system. Anything that impairs fat absorption, or inadequate dietary fat, may impair Vitamin K absorption. Vitamin K2 compounds,menaquinones, are made by helpful bacteria in the human gut, and are also derived from conversion of vitamin K1. Antibiotics destroy the beneficial bacteria needed for Vitamin K synthesis.
Natural Vitamin K is required for the gamma-carboxylation of glutamate in three bone proteins: osteocalcin, matrix Gla protein, and periostin. These proteins help to build and maintain bones by binding to ("chelating") calcium. They are needed for calcium to come into a crystallized form and be incorporated into bone tissue. Research shows that vitamin K may regulate osteoblast cells which build new bone, bringing about more bone formation versus resorption. Vitamin K also appears to improve the trabecular microarchitecture, both connectivity and width; to increase bone strength without influencing bone mineral content; and to increase collagen levels and proline hydroxylation.
Boron is a mineral with an important role activating vitamin D. Boron protects against osteoporosis, and a boron deficiency may accelerate bone loss. Post-menopausal women who have adequate boron intake conserve more calcium in their bones and lose up to 44% less calcium in their urine. Boron can mimic the beneficial effects of estrogens on bones. Also boron improves the balance between calcium and phosphorus, which benefits the density of bones.
The first studies showing that boron had effects on calcium, phosphorus and vitamin D were done in the 1980s. Boron supplementation in postmenopausal women markedly lowered the amounts of calcium and magnesium lost in the urine, and especially so if they had low magnesium intakes from their diets. Researchers found that bringing boron intake up to the level commonly found in diets high in fruits and vegetables helped to prevent calcium loss and bone demineralization.
Silicon has two major benefits for bones: It helps improve bone mineral density, and also strengthens the collagen matrix of bone architecture. As bones grow and renew their architecture, silicon is needed for formation of cross-links between collagen and proteoglycans. Research has shown that a year of silicon supplementation can increase the collagen level in bones by 2% and increase mineral density by 2%. Improving the collagen architecture boosts the tensile strength and flexibility of bones, significantly reducing the risk of fracture. Silicon is the second most abundant element on earth, after oxygen. It is necessary for the enzyme prolyhydroxylase that stimulates collagen formation in bone, cartilage and other connective tissues.
Contents
4 capsules provide: Vitamin C (ascorbic acid) 100mg, Vitamin D (as cholecalciferol) 600 IU, Vitamin K1 (as phytonadione)300 mcg, Thiamin (as thiamin HCl) (vitamin B1) 20mg, Riboflavin (vitamin B2) 20mg, Niacin (as niacinamide) 50mg, Pantothenic Acid (as calcium D-pantothenate) 20mg, Vitamin B6 (as pyridoxine HCl) 25mg, Folic Acid 800mcg, Vitamin B12 (as cyanocobalamin) 20mcg, Calcium (from calcium carbonate, tricalcium phosphate, calcium lactate, calcium Kreb's cycle chelates, and calcium citrate) 600mg, Phosphorus (from tricalcium phosphate) 96mg, Magnesium (as magnesium oxide and magnesium aspartate) 250mg, Zinc (as zinc picolinate) 20mg, Selenium (as sodium selenite) 100mcg, Copper (as copper gluconate) 2mg, Manganese (as manganese aspartate) 7mg, Chromium (as chromium aspartate) 200mcg, Molybdenum (as sodium molybdate) 50mcg, Sodium 10mg, Betaine HCl 20mg, Boron (as boron Kreb's cycle chelates) 2 mg, Strontium (as strontium chloride) 2mg, Silicon (from sodium metasilicate) 1mg,
Other Ingredients: vegetable capsule (modified cellulose), modified cellulose gum, silicon dioxide, and magnesium stearate.
Free of: - This product does Not contain: artificial coloring, artificial flavoring, preservatives, parabens, dairy/milk/casein products, gluten, corn, ingredients of animal origin, shellfish, egg, salt, soy, sugar, wheat, yeast.
Cautions
Always take natural remedies under the supervision of your health care provider. Do not use 'Osteoprime' without the advice of your healthcare professional if you are if you are also taking blood thinning drugs such as warfarin, heparin, as vitamin K can counteract the anticoagulant effects. There may a slight increase of blood-thinning effect with high doses of natural remedies including clove, garlic, ginger, ginkgo, curcumin, vitamin E and fish oil. NSAID drugs such as aspirin, Plavix, ibuprofen or naproxen can also have blood-thinning effects that are potentiated by vitamin K. Vitamin K1 might lower blood sugar: along with other natural remedies including chromium, gymnema, banaba, or cinnulin, it might lower blood sugar too much. Monitor blood sugar regularly. Do not use calcium without the advice of your physician if you have a history of kidney stones or soft tissue calcification. Do not take calcium within three hours of thyroid medicines or tetracycline antibiotics. Calcium can interfere with the action of diltiazem and sotalol, and reduce the efficacy of verapamil. Additional calcium may be needed during pregnancy and during lactation: follow the guidance of your physician. Do not use magnesium during pregnancy without medical guidance. Magnesium occasionally causes looser stools. Do not use 'Osteoprime' during pregnancy or nursing unless under the guidance of your physician, as there is insufficient data about safety during pregnancy.
Testimonials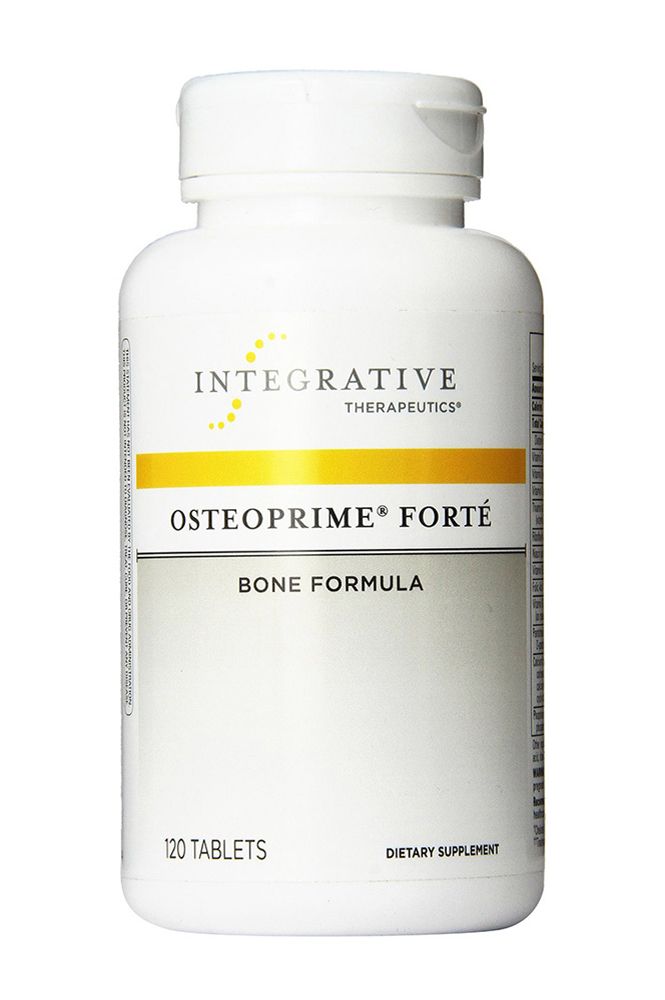 Shipping:
Free shipping for purchases of $40 and over
Benefits of Consistency
"With the right vitamins, herbs and foods, your health can continue to improve over time, as vibrant new tissues replace old cells. Our patients often feel increasing vitality as medical tests get better and better, year after year."
- Dr. Rachelle Herdman