We prefer this brand because…...
We have found "Meriva" to be far better absorbed and more effective over short and long term use than most standard turmeric formulas. Turmeric is a potent natural anti-inflammatory, pain reliever and reparative for connective tissues, which can help reverse inflammatory conditions so that the underlying cause of pain gets better and better over time. However, turmeric is a poorly absorbed herb, whether taken as a food or supplement. It only works well in a strong-enough formulation that helps to carry the active constituent curcumin across the intestinal wall and into the circulation, so that curcumin reaches sufficiently high blood levels to be effective. In our clinic, "Meriva" supersedes the old 95% curcumin concentrates we used in the past. Most of our patients say that "Meriva" is better or outstandingly better than our former turmeric varieties, for ongoing pain-relief that continues to build up over time. The curcumin in "Meriva" is attached to phytosomes, plant cell extracts containing phosphatidylcholine. This is readily recognized by the body and rapidly absorbed, as it also occurs in our cells. Human studies show curcumin in this form to be 29 times more bioavailable, giving higher plasma and tissue concentrations from smaller doses. "Meriva" is also time-released, bringing steady prolonged benefits.
About turmeric
Curcumin is the bright yellow active constituent in turmeric root. It is a potent anti-inflammatory that can reduce pain and swelling, and thus increase joint mobility. It is also a liver protector, reducing the risk of gallstones, a digestive remedy helping with gas, and an anti-oxidant for the eye and other tissues. Turmeric is a classic example of a supplement whose benefits are cumulative and ongoing: with steady use, joint and connective discomfort, swelling, range of motion and also digestive and liver functions can continue to improve for months or years: This herb is a true example of a natural remedy that may gradually reverse and heal the underlying disorder.
Several studies have illustrated that curcumin has liver-protective effects, and that it may protect the liver from environmental toxin damage. Curcumin also has the capacity to increase both the flow and solubility of bile. Curcumin has the capacity for direct free-radical scavenging; and it also enhances the body's natural antioxidant system, which increases glutathione levels, thereby aiding in hepatic detoxification.
Contents
2 capsules provide: Curcumin Phytosome* (Curcuma longa root extract / Phosphatidylcholine complex) 500 mg.
Other Ingredients: High and low viscosity hydroxypropyl methylcellulose and CalciumCitrateLaurate, Hypromellose (derived from cellulose) capsule, Leucine, Silicon Dioxide, Microcrystalline Cellulose. *Curcumin Phytosome (Meriva®) complexed with Time-Sorb®, a time-release matrix. This product uses Indena S.p.A.'s curcumin phytosome (Meriva®). Meriva is a registered trademark of Indena S.p.A.
Free of: - This product does Not contain: artificial coloring, artificial flavoring, preservatives, parabens, dairy/milk/casein products, gluten, corn, ingredients of animal origin, shellfish, egg, salt, soy, sugar, wheat, yeast. Contains ingredient derived from soy (phytosome).
Cautions
Always take natural remedies under the supervision of your health care provider. Do not use 'Meriva' without the advice of your healthcare professional if you are also taking anti-platelet drugs including but not limited to Plavix, warfarin; or if you are using anti-diabetic drugs as turmeric may lower blood sugar and prolong clotting times. Avoid taking turmeric with cyclophosphamide (Cytoxan) or other chemotherapy drugs, as it might also interfere with their absorption and efficacy. Stop 'Meriva' for at least seven days before surgery and for seven to ten days after, because of the possible blood-thinning effects. Use 'Meriva' with caution if you also take garlic, ginger, fish oil or ginkgo, all of which may also reduce blood clotting. Do not use during pregnancy or nursing unless under the guidance of your physician, there is insufficient data about safety during pregnancy.
Testimonials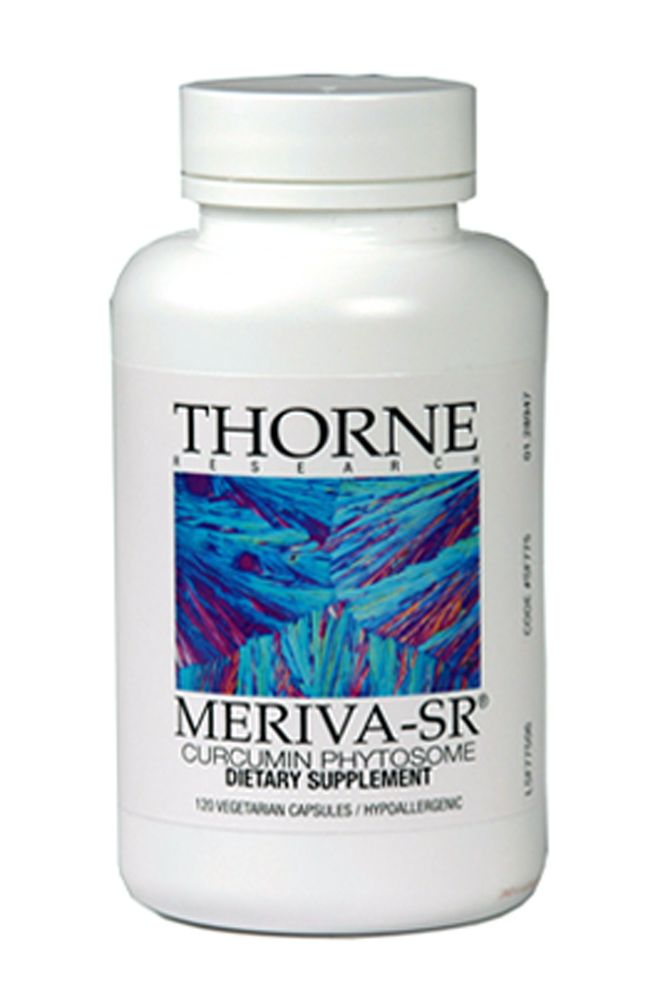 Shipping:
Free shipping for purchases of $40 and over
Benefits of Consistency
"With the right vitamins, herbs and foods, your health can continue to improve over time, as vibrant new tissues replace old cells. Our patients often feel increasing vitality as medical tests get better and better, year after year."
- Dr. Rachelle Herdman