We prefer this brand because…...
This L-Glutamine is speedily absorbed, rapidly released into the intestinal lumen, and has no fillers or binders. Our patients have found it reliably beneficial for recovering from surgery and wound healing, inflammatory bowel conditions, and eczema.We also appreciate that this "L-Glutamine" is made by a company with long term expertise and skill in making amino acids and nutraceuticals.
About L-glutamine
Glutamine is the most abundant naturally occurring amino acid in the human body and bloodstream, and one of the few amino acids that can directly cross the blood-brain barrier. It is mostly found in blood and stored in skeletal muscle tissue, which produces 90% of all body glutamine, and in small amounts in the lung and the brain. It is required for more metabolic processes than any other amino acid, including forming proteins and slowing their breakdown, for tissue repair and for rapidly-dividing cells, for regulation of acid-base balance in the kidney, and as a source for cellular energy next to glucose. It is especially needed by intestinal cells, and also for white blood cells: without it these cells cannot divide adequately. Glutamine is also key for skin health and wound healing.
Glutamine has major benefits for gastrointestinal health, as it is a crucial fuel source for enterocytes, the cells lining the digestive tract. Glutamine has been shown to inhibit oxidative damage and to significantly reduce the risk of systemic infections originating from the gut after abdominal surgery. Glutamine strengthens the gut's barrier function and maintains intestinal permeability, which has global benefits throughout the body. It has significant healing properties for inflammatory bowel disease, Crohn's, and ulcerative colitis, and may help heal peptic ulcers and soothe IBS, and gluten sensitivities.
Glutamine supports a healthy immune system function, partly because it helps restore healthy intestinal permeability, in addition to its role in white blood cell development. Studies show that glutamine helps to fight infection especially in endurance athletes. For eczema, glutamine can help calm itching and repair skin lesions. L-glutamine helps tissue repair in its own right, and improved gastrointestinal and immune health further help eczema.
Extra glutamine is needed for tissue repair before and after surgery. Traumasuch as wounds, burns, or surgery leads to elevated cortisol level which then depletes glutamine levels. In catabolic states of injury and illness, glutamine becomes semi-essential requiring extra intake. In hospital, adding glutamine to intravenous feeds dramatically increases recovery for critically ill patients.
Glutamine is an energy source for muscle cells, and has an anabolic (build-up) effect on skeletal muscle. After intense athletic training, plasma glutamine levels drop. If there is insufficient recovery time, glutamine can become very low, impeding athletic performance and muscle growth. Glutamine supplementation can prevent muscle injury from overtraining, and help an athlete recover.
Contents
2 capsules provide: L-Glutamine 1,000 mg.
Other Ingredients: vegetarian cellulose capsule.
Free of: - This product does Not contain: artificial coloring, artificial flavoring, preservatives, paraben,egg, dairy, milk or casein, lactose, ingredients of animal origin, shellfish,tree nuts, gluten, wheat, yeast, salt, soy, sugar, corn.
Cautions
Always take natural remedies under the supervision of your health care provider. Consult your healthcare professional before using L-glutamine if you are taking anticonvulsant drugs such as phenobarbital, valproic acid, gabapentin (Neurontin), carbamazepine or phenytoin, as glutamine may decrease the effectiveness of medications used to prevent seizures. People with liver disease, cirrhosis, or MSG sensitivity should avoid glutamine. If you are pregnant or nursing only use L-glutamine under the guidance of your physician, the effects during pregnancy or lactation are unknown.
Testimonials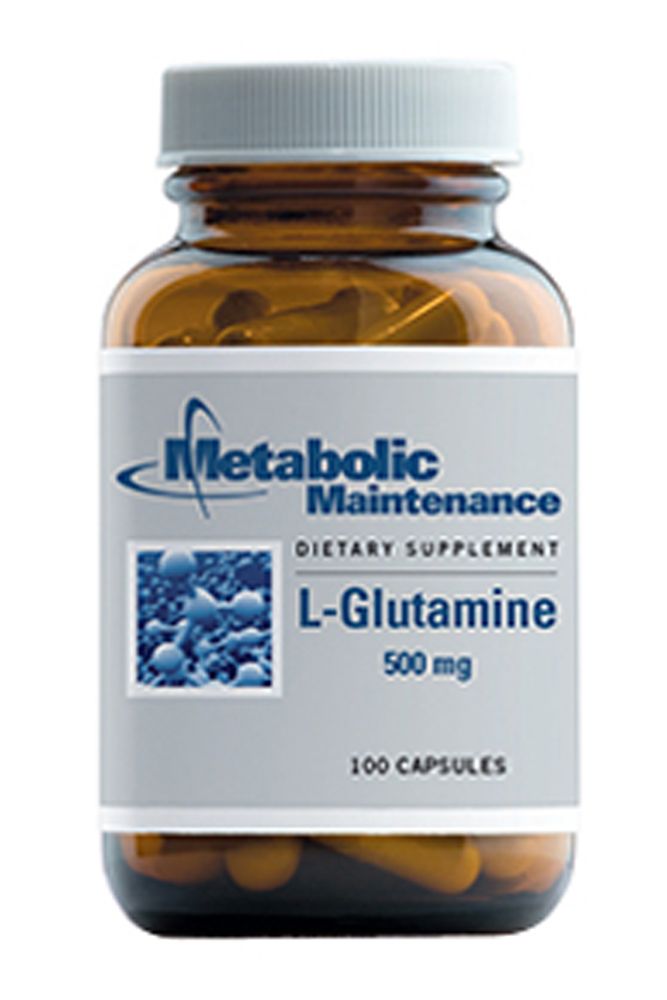 Shipping:
Free shipping for purchases of $40 and over
Benefits of Consistency
"With the right vitamins, herbs and foods, your health can continue to improve over time, as vibrant new tissues replace old cells. Our patients often feel increasing vitality as medical tests get better and better, year after year."
- Dr. Rachelle Herdman