We prefer this brand because…...
This formula has an unusually high dose per tablet, and so fewer tablets are needed, making this convenient and economical while it is also super-effective. It is highly absorbable, it reaches its target tissues efficiently, and it is made by an outstanding professional brand. Studies show that a daily intake of 1,500mg. is necessary for joint benefits, and individuals over 200lb. may need over 2,000mg. daily. The sulfate is the only form of glucosamine that we recommend. Glucosamine sulfate has been in hundreds of scientific studies and dozens of double-blind controlled trials, and it is a registered therapy for osteoarthritis in over seventy countries. Glucosamine hydrochloride (HCl) has not been proven effective. We do not recommend spending money or digestive energy on chondroitin or other cartilage extracts, which are only 0-8% assimilated and yield little glucosamine and equivocal results, whereas up to 98% of each dose of pure glucosamine sulfate is absorbed. In our clinic, many patients are enjoying enduring pain relief and increased range of motion with "Glucosamine Sulfate 750".
About glucosamine sulfate
Glucosamine sulfate isa simple molecule that the body can manufacture, though levels decline with age. Glucosamine functions as a building block for glycosaminoglycan, the main structural component of cartilage, and it also encourages optimal sulfur levels in cartilage. Sulfur is essential for stabilizing the connective tissue matrix in cartilage, tendons and ligaments. Research shows that arthritis patients may be sulfur-deficient, and so we prefer the sulfate form.
Glucosamine sulfate appears to address the root causes of degenerative joint disease, and may reverse the progression of arthritis. It promotes new cartilage formation and helps to repair damaged joints. X-ray studies have shown measurable improvements including restoring of wider spaces between the bones of a joint that had been narrowed by arthritis. Long term, glucosamine sulfate has proven more effective than anti-inflammatory drugs, though it actually has less anti-inflammatory and pain-relieving effects.
Several studies have found that after just four weeks of glucosamine sulfate 44% of subjects had good pain relief with minimal side-effects, compared to ibuprofen users of whom only 15% had less pain but 35% had side effects. After six or more months, over 50% of people on glucosamine sulfate had improvements. Conversely NSAID drugs may give quick symptom relief, but long-term they inhibit cartilage repair and may accelerate the destruction of cartilage and worsen degenerative joint disease.
Contents
2 tablets provide: Glucosamine Sulfate, stabilized (shrimp shells)1,500mg, Chloride (from glucosamine sulfate) 246 mg, Sodium 145 mg.
Other Ingredients: cellulose, modified cellulose, magnesium stearate, soy lecithin, and carnauba wax.
Free of: - This product does Not contain: artificial coloring, artificial flavoring, preservatives, paraben,egg, dairy, milk or casein, lactose, tree nuts, gluten, wheat, yeast, salt, soy, sugar, corn. Note: this product is a shellfish derivative.It contains natural ingredients; color variations are normal.
Cautions
Always take natural remedies under the supervision of your health care provider. Consult your healthcare professional before using glucosamine sulfate if you are taking anticoagulant drugs or anti-platelet drugs as glucosamine sulfate may have a blood thinning effect. Since glucosamine is usually derived from the shells of shellfish while the allergen is within the flesh of the animals, it is probably safe even for those with shellfish allergy. However, those with a seafood allergy should consult a healthcare professional before taking glucosamine sulfate. There is no evidence that glucosamine affects glucose intolerance or insulin resistance, though the issue has been considered. Diabetics should always monitor blood sugar regularly. There have been rare reports of temporary headache and upset stomach or diarrhea. If you are pregnant or nursing only use glucosamine sulfate under the guidance of your physician, the effects during pregnancy or lactation are unknown.
Testimonials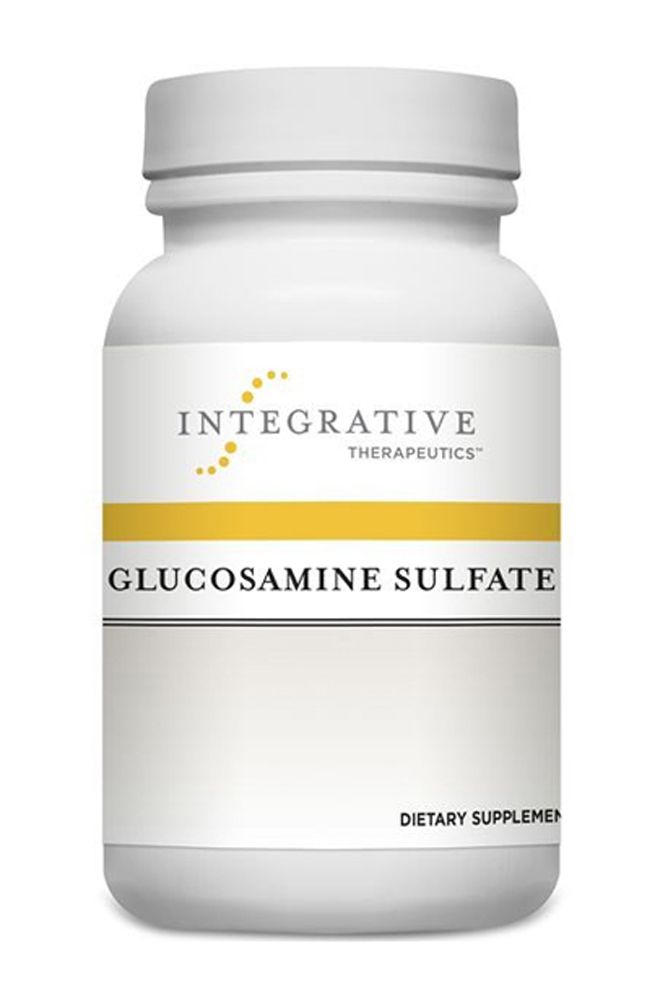 Shipping:
Free shipping for purchases of $40 and over
Benefits of Consistency
"With the right vitamins, herbs and foods, your health can continue to improve over time, as vibrant new tissues replace old cells. Our patients often feel increasing vitality as medical tests get better and better, year after year."
- Dr. Rachelle Herdman