We prefer this brand because…...
We've had consistently excellent results with "Cranstat Extra" because it contains a broad spectrum of herbs that powerfully address urinary tract infections from several directions at once. It includes herbs that prevent bacteria from adhering to the lining of the bladder; herbs that are activated in the urine to kill bacteria; and the botanical demulcent marshmallowwhich soothes inflamed membranes in the urethra and bladder. In our experience, "Cranstat Extra" can probably head off about 90% of urinary tract infections, especially if started when symptoms begin. Usually patients take three capsules one or two times daily for seven to ten days, and only about 5-10% of them need to use the backup antibiotic prescription we make available. Many patients like to always have "Cranstat Extra" on hand, especially when traveling. "Cranstat Extra" is more palatable than tinctures of bladder herbs, which are effective but famously bad tasting.
About cranberry, uva ursi, buchu, marshmallow
"Cranstat Extra" is a balanced blend of botanicals that are antimicrobial, immune boosting soothing for inflamed tissues, and diuretic. Cranberry has long been a classic home remedy for urinary tract infections, and it works in three potent ways: it is an anti-adherence remedy that prevents bacteria such as E.Coli from attaching to the lining of the bladder and urethra. If they cannot attach they cannot survive long or multiply. Secondly cranberry acidifies the urine, making it less hospitable for bacteria, and thirdly cranberry contains hippuric acid which can kill bacteria. Uva ursi or bearberry is a small evergreen shrub. Its leaves contain the quinone arbutin, which is activated in the urine to kill bacteria. Uva ursi is also a preventive: in one well-known study tracking women prone to recurring bladder infections for one year, 20% of the control group had infections, but none of the uva ursi group did. Pipsissewa is an arbutin-containing urinary antimicrobial that also has no action in the blood stream and becomes activated in the urine. Buchu is a flowering shrub native to southern Africa, and its leaves contain antibacterial volatile oils including diosphenol. It also has mucilaginous compounds that soothe the urinary tract lining, and it is a diuretic improving the flow of urine to flush through the bladder. Oregon grape root is rich in berberine, which can activate macrophages, white blood cells that engulf and kill bacteria. Berberine also prevents bacteria from adhering to human cells. Marshmallow is a demulcent, containing soothing mucilage which adds a protective coating for the bladder and urethra, soothing burning and irritation.
Contents
2 capsules provide: Cranberry concentrate (25:1) 150mg, Uva ursi leaf extract (4:1) 300mg, Buchu leaf extract (4:1) 300mg, Pipsissewa herb 300mg, Oregon grape root 200mg, Marshmallow root 150mg.
Other Ingredients: Vegetable cellulose and water.
Free of: - This product does Not contain: artificial coloring, artificial flavoring, preservatives, paraben,egg, dairy, milk or casein, lactose, ingredients of animal origin, shellfish,tree nuts, gluten, wheat, yeast, salt, soy, sugar, corn.
Cautions
Always take natural remedies under the supervision of your health care provider. Avoid using Cranstat Extra along with antibiotics. Do not exceed the dose limitations. Excess doses of uva ursi can cause nausea, vomiting, shortness of breath. If you suspect overdose, contact your healthcare professional.Do not use Cranstat Extra or uva ursi while pregnant or nursing.
Testimonials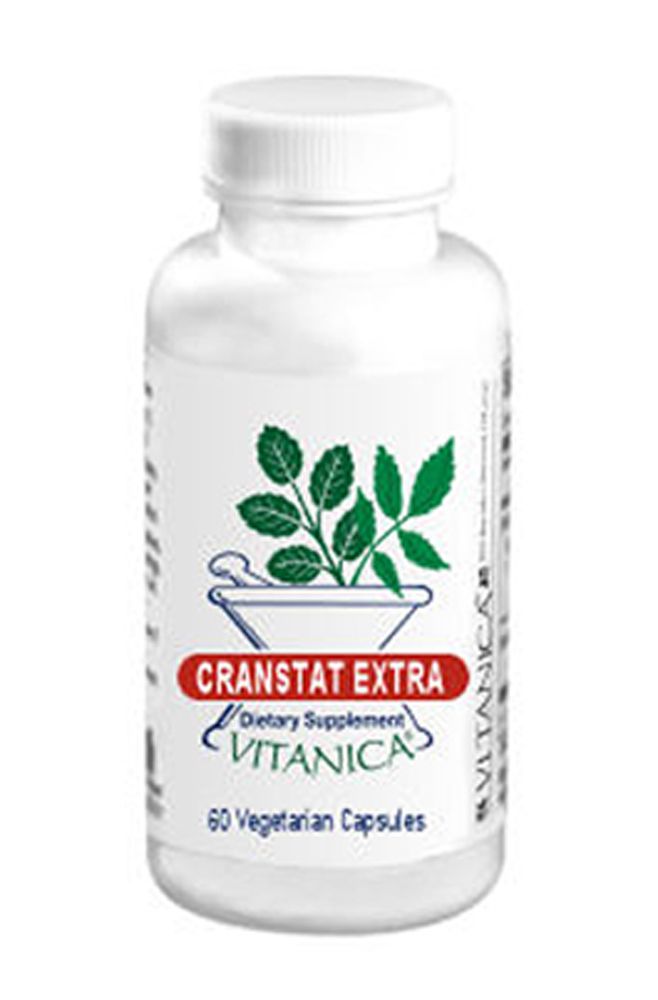 Shipping:
Free shipping for purchases of $40 and over
Benefits of Consistency
"With the right vitamins, herbs and foods, your health can continue to improve over time, as vibrant new tissues replace old cells. Our patients often feel increasing vitality as medical tests get better and better, year after year."
- Dr. Rachelle Herdman