We prefer this brand because…...
"Cramp Bark Extra" is an excellent and unusual blend of the potent muscle-relaxing herb cramp bark enhanced with synergistic vitamins, minerals and botanicals that magnify its benefits. This formula is based on scientific literature and also extensive clinical results. The extra ingredients enhance the benefits of cramp bark for menstrual cramps (vitamins B3 and B6), asthma (magnesium), high blood pressure (vitamins C and E), COPD and Raynaud's, The 300mg. dose of cramp bark is ample, and our patients find it more palatable and convenient to take than liquid tincture, and equally effective.
About cramp bark, ginger, vitamin B3
Cramp bark, viburnum opulis, was historically used by Native Americans as medicine for reducing swollen glands and fluid retention, and for muscle spasms. Because of its ability to relax tension in smooth muscle, it relieves pain from spasm and also opens up bronchial airways or blood vessels to improve flow and reduce pressure. Nowadays it also used for cough, back pain, and as a kidney tonic for urinary conditions that involve pain or spasms. Cramp bark is also astringent, meaning it has a drying effect and reduces fluid engorgement, which further helps to reduce pain and inflammation. Ginger is an anti-inflammatory, it reduces prostaglandins that mediate inflammation. Vitamin B3, niacin, has been found in studies to relieve severe menstrual cramping in up to 90% of subjects, and has proven effective for normalizing blood flow in Raynaud's phenomenon, painful hand and foot disorder due to constriction of blood vessels with cold exposure. Magnesium is a classic smooth muscle relaxant used to prevent exacerbations of asthma and COPD, and also to help sleep; magnesium infusions are used clinically for acute attacks. Valerian is also an effective antispasmodic that relaxes smooth muscle.Vitamin Ehas been studied since the 1950s for menstrual cramps, and because it reduces risk of blood clots and stroke it complements the blood-pressure lowering effect of cramp bark. Vitamin C also gently lowers blood pressure typically by 5-10 points.
Contents
3 capsules provide: Cramp bark 300mg, Ginger root 150mg, Vitamin C (Calcium ascorbate) 750mg, Vitamin E (d-alpha tocopheryl succinate)75IU, Vitamin B3 (inositol hexaniacinate) 150mg, Vitamin B6 (pyridoxal-5 phosphate) 40mg, Magnesium (citrate-malate) 60mg, Calcium (ascorbate, citrate-malate) 60mg, Valerian root 150mg, Rutin 300mg, Black cohosh root 150mg.
Other Ingredients: Vegetable cellulose and water.
Free of: - This product does Not contain: artificial coloring, artificial flavoring, preservatives, paraben,egg, dairy, milk or casein, lactose, ingredients of animal origin, shellfish,tree nuts, gluten, wheat, yeast, salt, soy, sugar, corn.
Cautions
Always take natural remedies under the supervision of your health care provider. Avoid using Cramp Bark during pregnancy and lactation. Do not use Cramp Bark without the advice of your physician if you are taking blood pressure medicine, as Cramp Bark may significantly reduce blood pressure and your medication dose may need to be reduced.
Testimonials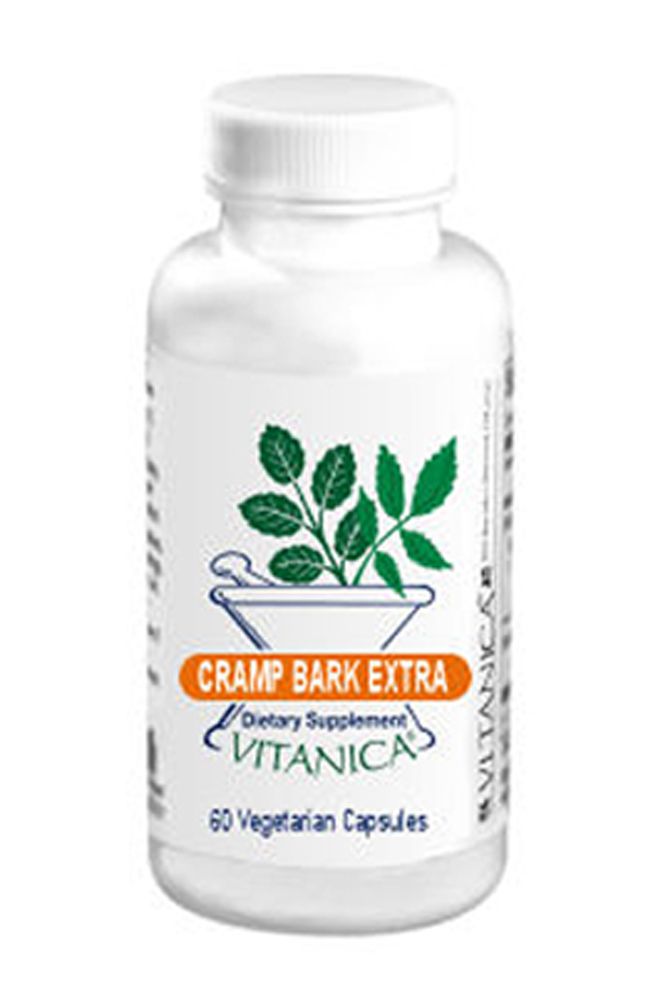 Shipping:
Free shipping for purchases of $40 and over
Benefits of Consistency
"With the right vitamins, herbs and foods, your health can continue to improve over time, as vibrant new tissues replace old cells. Our patients often feel increasing vitality as medical tests get better and better, year after year."
- Dr. Rachelle Herdman