We prefer this brand because…...
"CoQ10 Extra" is a particularly absorbable blend of this powerful fat-soluble antioxidant and organ protector. CoEnzyme-Q10 tends to be poorly absorbed, because it is a large molecule that does not dissolve well in water. "CoQ10 Extra" is an unusual combination that includes lipase, identical to the body's own fat-digesting enzyme, to carry CoQ10 from the intestine into cells with dietary fat, for maximum absorption. As a supplement CoQ10 should be taken with food including fat or oil, as it absorbs significantly better with fats. This excellent formula also greatly boosts its antioxidant activity by combining vitamins E and C with CoQ10. Our internal CoQ10 levels decline with age, with the use of statin drugs, and with stress. Some disorders such as high blood pressure, angina, and mitral valve prolapse require higher tissue CoQ10 levels. In our clinic, our patients have seen excellent results over years for blood pressure, heart and eye health, gums, hair, breast health, and more with this brand.
About co-enzyme Q10
Co-enzyme Q10, or ubiquinone, is a fundamental nutrient, present in the mitochondria of every cell where it plays a key role in the Krebs cycle and production of ATP, the energy carrier for all body processes. It is a powerful fat-soluble antioxidant and a potent organ protector: it has widespread health benefits because it enhances energy production and protects against oxidative damage in all tissues.
It protects arteries against atherosclerosis by reducing oxidative damage of LDL, so that LDL is less sticky, and this effect is enhanced by vitamin E. Deficiency of CoQ10 is common in all kinds of cardiovascular disease, hence it is used for cardiomyopathy, angina, and recovery from heart surgery where it improves capillary flow and reduces the chance of a future heart attack or tissue damage. About 40% of high blood pressure patients have a deficit of CoQ10, and it can gently lower blood pressure, especially systolic, by about 10-15 points. Statin drugs can lower CoQ10 levels in the body; research suggests that taking CoQ10 supplementation may be advisable with these medications. CoQ10 has a role in Raynaud's disorder: it may reduce vessel wall spasm and enhance blood flow.
In the nervous system, there is evidence that CoQ10 is protects the dopamine system for Parkinson's and may help maintain function and restore ATP levels and tubulin ratios: CoQ10 is lower in the mitochondria of Parkinson patients, and declines with age. For Alzheimer's disease, CoQ10 may reduce beta-amyloid plaque, and possibly improve mental function and memory. Studies show that CoQ10 improves nerve damage and nerve pain caused by diabetes (diabetic neuropathy). Along with acetyl-L-carnitine, and omega-3 fatty acids, CoQ10 may help to stabilize or improve vision for macular degeneration, and speed healing after cataract surgery with faster nerve regeneration and a more stable ocular surface. In some cases, CoQ10 can decrease the frequency of migraine headaches by about 30% and the number of days with headache-related nausea by about 45% in adults, either by redressing CoQ10 deficiency or by normalizing blood flow in small vessels.
For gums, CoQ10 is deficient in periodontal tissues of 60-95% of patients with gum disease. Taking CoQ10 significantly improves gum swelling and bleeding, and pocket depth.
CoQ10 also has roles in helping reverse hair loss in women, and for COPD because it helps energy production. Likewise CoQ10 given to healthy non-athletes for 8 weeks or more led to improved muscle endurance and oxygen transport.
For weight balance, 100-200mg. daily of CoQ10 led to double the weight loss over two months with the same calories, maybe because it is essential for energy production. Research has found that up to 50% of overweight people have low serum CoQ10 levels.
Contents
1 capsule provides: Coenzyme Q10 (ubiquinone) 100mg, Lipase 300FIP, Vitamin C (as calcium ascorbate)200mg, Vitamin E (as d-alpha tocopheryl succinate)50IU.
Other Ingredients:
Other Ingredients: Cellulose, water, silica, L-leucine.
Free of: - This product does Not contain: artificial coloring, artificial flavoring, preservatives, paraben,egg, ingredients of animal origin, shellfish,tree nuts, gluten, wheat, yeast, salt, soy, sugar, corn.
Cautions
Always take natural remedies under the supervision of your health care provider. Do not use CoQ10 without the advice of your physician if you are taking anticoagulants, or chemotherapeutic agents: there is concern that antioxidants might influence chemotherapy and radiation therapy. Only use with medical guidance if you take blood pressure medication, as CoQ10 lowers blood pressure. Do not use CoQ10 during pregnancy or nursing without medical guidance
Testimonials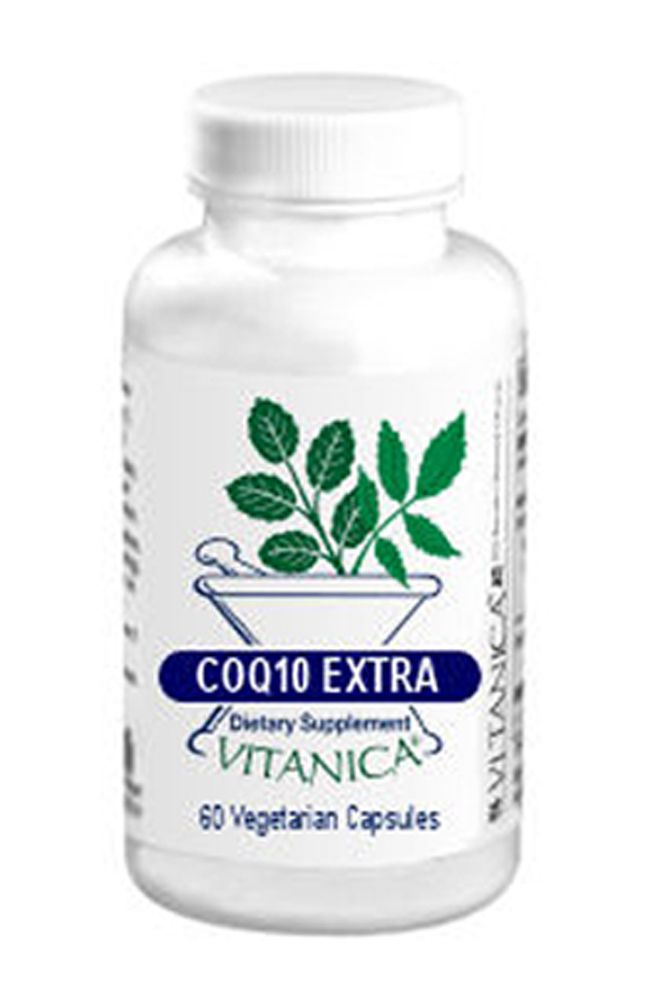 Shipping:
Free shipping for purchases of $40 and over
Benefits of Consistency
"With the right vitamins, herbs and foods, your health can continue to improve over time, as vibrant new tissues replace old cells. Our patients often feel increasing vitality as medical tests get better and better, year after year."
- Dr. Rachelle Herdman