We prefer this brand because…...
This unusual Boswellia serrata blend is based on traditional Ayurvedic principles, to calm the fire of inflammatory joint pain. It has several ingredients which work synergistically together to enhance each other's efficacy: Bromelain taken between meals is an excellent adjunct anti-inflammatory;ginger and curcumin both magnify boswellia's effect to ease arthritis pain; glucosamine adds relief for wear-and-tear osteoarthritis. Withania, or ashwagandha, is an immune and adrenal supporter, and has long been used in Ayurvedic medicine to support joint health. We like to be sure that boswellia is standardized to contain at least 35-65% organic acids including boswellic acid.We've seen better and more enduring benefits from Boswelya Plus than plain boswellia alone.
About boswellia
Boswellia serrata is a large branching tree native to India. Boswellia species yield a fragrant resin with many medicinal uses, particularly anti-inflammatory. Frankincense in biblical times was an extract of Boswellia sacra, now it comes from several species including B. serrata.
Boswellia has been used for centuries in Ayurvedic medicine. Boswellic acids, the bioactive constituents in the resin, have been shown in studies to affect key enzymes that maintain healthy connective tissues, and balance the immune response to joint wear and tear. In West Africa, the bark of Boswellia is used to treat fever, rheumatism and even depression.
Boswellic acid terpenoids have a combination of benefits that is believed to be unique to boswellia: they may maintain healthy 5-lipoxygenase enzyme activity and healthy leukotriene metabolism; and also maintain healthy human leukocyte elastase enzyme activity.
Boswellia is also effective for asthma, in studies up to 70% patients had improved breathing, less wheeze, or better peak flows. Double-blind trials have also confirmed the befits of boswellia for inflammatory bowel disease, ulcerative colitis and Crohn's. Boswellia also shows promise for possibly supporting cardiovascular function.
Contents
1 tablet provides: Boswellia 300mg; Ginger, Zingiber officinale 100mg; Withania somnifera 100mg; Turmeric, Curcuma longa 50mg; Proprietary blend of the following totaling to 275 mg: (Bromelain 2400 GDU, Glucosamine sulfate, Chondroitin sulfate)
Other Ingredients: Dicalcium phosphate, stearic acid (vegetarian source), magnesium stearate (veg. source), and silicon dioxide .
Free of: - Not manufactured with yeast, wheat, gluten, soy, milk, egg, fish or shellfish.
CAUTION: Produced in a GMP facility that processes other ingredients containing these allergens
Cautions
Always take natural remedies under the supervision of your health care provider. Do not use boswellia without the advice of your healthcare professional if you are taking leukotriene inhibitors as studies suggest boswellia moderates 5-lipoxygenase. Boswellia may rarely be linked with minor, transient GI discomfort, diarrhea, skin rash, acid reflux and nausea. Do not use without your physician's guidance if you have pre-existing gastritis or gastro-esophageal reflux disease (GERD). Avoid boswellia during pregnancy and during lactation unless under the guidance of your physician.
Testimonials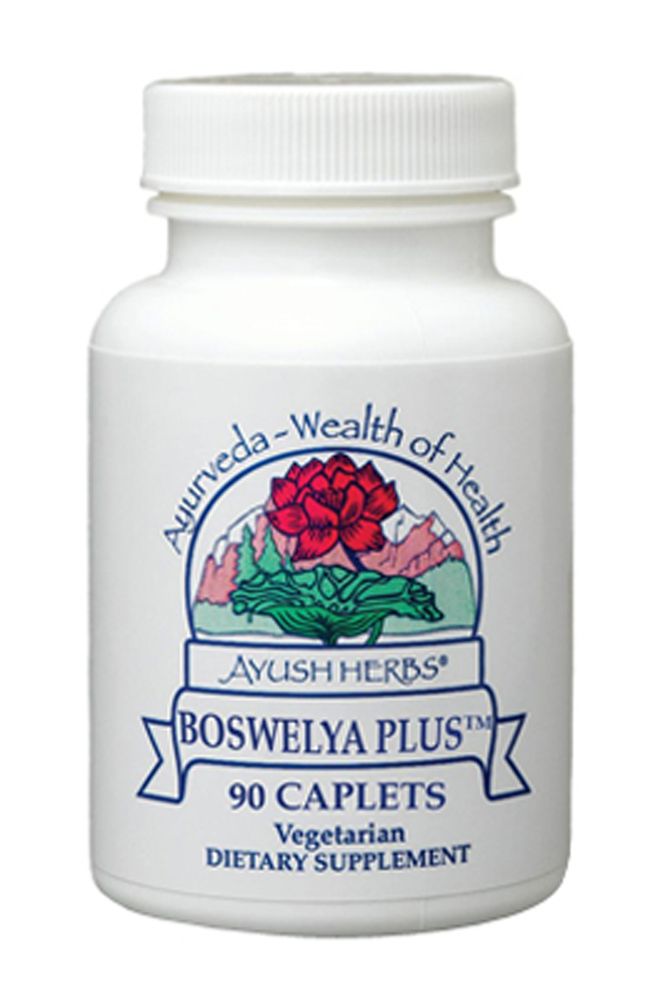 Shipping:
Free shipping for purchases of $40 and over
Benefits of Consistency
"With the right vitamins, herbs and foods, your health can continue to improve over time, as vibrant new tissues replace old cells. Our patients often feel increasing vitality as medical tests get better and better, year after year."
- Dr. Rachelle Herdman