Blue Heron: detoxifying complex
We prefer this brand because…...
Blue Heron is a unique formula that includes several varieties of gluten-free food fiber, digestive herbs, and probiotics. It also includes the Ayurvedic herbal blend Triphala, which is neither fiber nor laxative: instead Triphala acts to re-educate the bowel muscle, and remind it to move food along at a healthy pace via its normal peristalsis squeeze and release functions. Blue Heron has two grams of dietary fiber per serving in True DispersionTM Technology which ensures that psyllium and other fibers do not clump and are completely released and dispersed. It is rare in containing the classic bowel-soothing herbs slippery elm and marshmallow, along with a potent profile of probiotics suited for the digestive tract. Blue Heron is long-time favorite with many of our patients for digestive support and cholesterol management, and is very safe for ongoing use.
About psyllium, flax fiber, fenugreek, slippery elm, triphala
Dietary fiber is key for keeping stools moist, malleable, at an ideal weight, and for maintaining a healthy transit time from mouth to anus of 24-36 hours, so that waste doesn't linger in the bowel, and exposure time to toxins is reduced. Good-sized stools help reduce constipation, diverticulae, hemorrhoids, anal fissures and varicose veins from straining. Fiber also eases irritable bowel syndrome and chronic diarrhea. It absorbs toxins, and because it slows gastric emptying it helps maintain healthy blood glucose levels if taken with a meal. In the bowel, fiber creates a friendly environment for lactobacillus and other acid-loving bacteria, and discourages growth of "bad" endotoxin-producing microbes. Plum pectin and flax, psyllium and rice fiber are fermented by "good" gut bacteria to produce beneficial short-chain fats including butyrate which is a specific food for the colon cells, and may have anti-cancer properties; and other fats which are used for energy. The soluble fiber in flax, psyllium and rice bran help lower blood cholesterol and triglycerides by both reducing their formation in the liver and by facilitating their bowel excretion, thus lowering the risk of heart disease.
Slippery elm and marshmallow are excellent demulcent bowel-soothing herbs that can help maintain a mucus coat in the stomach, adsorb and eliminate toxins, and soothe irritable bowel symptoms, colitis, and diverticulitis, and reduce abdominal pain, gas and bloating. Marshmallow root contains 25-35% mucilage, and is also high in pectin, which may lower blood glucose concentrations. Fenugreek seed is high in soluble fiber and also saponins and amino acids that all contribute to its bowel tonic benefits, and also to lowering cholesterol and normalizing blood sugar.
Probiotics including the lactobacillus and bifidobacteria species, can re-colonize normal flora that are needed in the intestine for metabolizing foods, absorbing nutrients, and keeping out pathogenic microbes. Probiotics stabilize the mucosal barrier and decrease intestinal permeability, and help mineral absorption. They have a key role in healthy immunity, stimulating lymphocyte and macrophage activity, reducing inflammation, enhancing antibody production against infectious microbes, and some lactobacillus species may secrete proteins that can disarm salmonella and other pathogens.
Triphala is a blend of three Ayurvedic fruits. It has the unusual effect of re-educating the bowel muscle, encouraging normal, easy peristalsis, moving the contents along at a steady pace. Triphala also has potent anti-allergy effects, helping to reduce the allergic response in nose and eyes, "allergic conjunctivitis".
Contents
3 capsules provide: Flax (Linum usitatissimum) Seed600mg, Psyllium (Plantago ovata) Seed Husk600mg, Rice (Oryza sativa) Bran600mg, Dried Plum (Prunus domestica) Fruit90mg, Fenugreek (Trigonella foenum-graecum) Seed75mg, Slippery Elm (Ulmus rubra) Bark75mg, Marshmallow (Althaea officinalis) Root Extract24mg, Triphala Blend: Amla (Phyllanthus emblica) Fruit, Belleric Myrobalan (Terminalia bellerica) Fruit, and Chebulic Myrobalan (Terminalia chebula) Fruit75mg Spectra Probiotic Proprietary Blend, Lactobacillus acidophilus, Bifidobacterium bifidum, Bifidobacterium infantis, Bifidobacterium longum, Lactobacillus helveticus, Lactobacillus casei, Lactobacillus salivarius, and Streptococcus thermophiles30mg, Papain (Papaya enzyme equivalent to 30,000 USP units/mg)1.8mg.
Other Ingredients: vegetable capsule (modified cellulose), rice flour, vegetable glycerin.
Free of: - This product does Not contain: artificial coloring, artificial flavoring, preservatives, paraben,egg, ingredients of animal origin, shellfish, gluten, wheat, yeast, salt, soy, sugar, corn.
CAUTION: May contain traces of*non-fat milk* (from probiotic blend).
Cautions
Always take natural remedies under the supervision of your health care provider. Do not use Blue Heron, fiber or fenugreek without the advice of your healthcare professional if you are taking insulin, oral hypoglycemic drugs or cholesterol-lowering medicines, because fiber and fenugreek can improve blood cholesterol and glucose levels. Slippery elm contains mucilage soft fiber, which can decrease absorption of any medications: to prevent this interaction, take slippery elm at least one hour after medications you take by mouth. Avoid Blue Heron during pregnancy and during lactation unless under the guidance of your physician.
Testimonials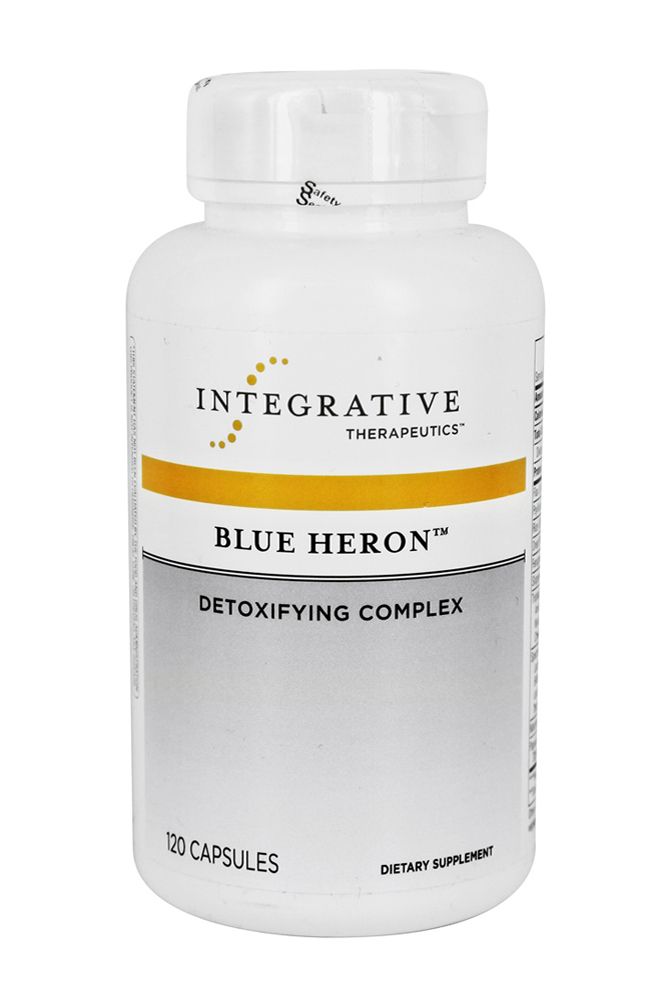 Shipping:
Free shipping for purchases of $40 and over
Benefits of Consistency
"With the right vitamins, herbs and foods, your health can continue to improve over time, as vibrant new tissues replace old cells. Our patients often feel increasing vitality as medical tests get better and better, year after year."
- Dr. Rachelle Herdman