We prefer this brand because…...
We look for the highest amount of active constituents, from a reputable source. This Bilberry Extract concentrate delivers a particularly high dose: it has 25% anthocyanins, the dark blue medicinal pigment from bilberry, and also provides a large total amount of 160mg per two capsules. We have seen excellent results with patients choosing to stay on this formula of Bilberry Extract for months or years, and experiencing cumulative benefits that gradually build up with varicose veins and plantar fasciitis. Bilberry in a capsule must be standardized to be sure that it contains enough of the active constituent to be effective; we avoid 'whole herbs' whichmay include inactive parts of the plant that lack clinical value. We have trusted Integrative Therapeutics formulas for many years, they create formulas for health professionals only, in response to the doses and proportions needed by real-life patients in practice, and we are assured of their consistent quality control.
About bilberry
The bilberry plant is a deciduous, leafy, freely branched, perennial shrub that is found in heaths, moors, and woods in most of Europe, northern Asia, and in the mountain and subalpine areas of western North America and Canada. Its fruit is a coarsely wrinkled purple-black berry. Bilberry is rich in anthocyanins, which are potent natural antioxidants, and also quercetin, tannins, and resveratrol. Bilberry is effective for eye protection, varicose veins, stabilizing blood sugar, and reducing joint inflammation, tendinitis and plantar fasciitis.
For eyes, bilberry protects the retina from free radical damage, and enhances the recovery of the visual pigment rhodopsin. It can lower intraocular pressure for glaucoma with improvements in Humphrey Visual Field, possibly slow cataract formation, and improve ocular blood flow. Bilberry eases eye strain with blurred vision, and for dry form age-related macular degeneration it may help visual acuity and visual field. Bilberry has traditionally been used for night vision since World War II, when British pilots in the Royal Air Force ate bilberry jam before night flights.
For the vascular system, bilberry anthocyanosides canimprove blood flow in tiny vessels, the micro-circulation, reduce cholesterol and fat deposits in blood vessels, and prevent thickening of blood vessel walls. Bilberry can also reduce platelet clumping and oxidative damage that makes 'bad' LDL-cholesterol sticky. Healthier blood flow benefits varicose veins, eye health, all organs for diabetics, and reduces the risk of blood clots.For diabetes, there is evidence that bilberry can help lower blood sugar and cholesterol levels, and thus further improve circulation for retina, nerve, kidney and heart protection.
Bilberry anthocyanosides appear to stabilize connective tissue by enhancing collagen formation, inhibiting its breakdown, and enhancing collagen cross-linking, which may help eyes, retina, gums, joints and veins. In addition, bilberry is anti-inflammatory: it lowers C-reactive protein, interleukins and inflammatory cytokines. The tannins in bilberry help reduce joint and connective tissue swelling and inflammation.
Contents
2 caps provide:Bilberry (Vaccinium myrtillus) Fruit Extract standardized to contain 25% anthocyanins: 160 mg.
Other Ingredients: vegetable capsule (modified cellulose), and magnesium stearate.
Free of: - This product does Not contain: artificial coloring, artificial flavoring, preservatives, dairy products, ingredients of animal origin, gluten, wheat, yeast, salt, soy, sugar, corn.
Cautions
Always take natural remedies under the supervision of your health care provider. Do not use bilberry without the advice of your healthcare professional if you are taking antidiabetic medicines; or anticoagulants or blood pressure drugs, as bilberry can rarely lower blood pressure or slightly thin blood. Avoid during pregnancy and during lactation unless under the guidance of your physician.
Testimonials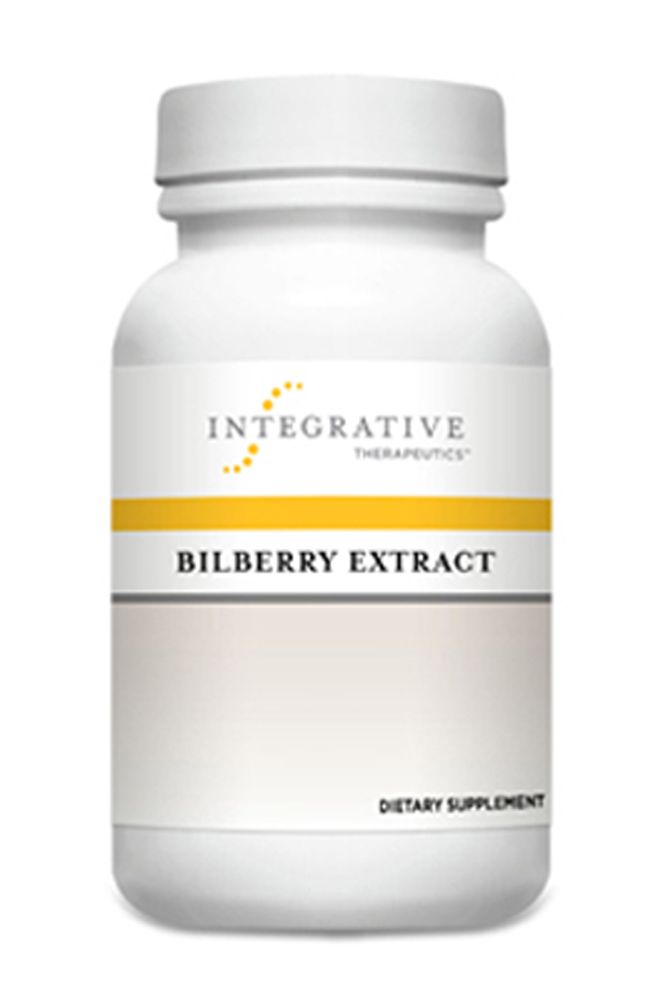 Shipping:
Free shipping for purchases of $40 and over
Benefits of Consistency
"With the right vitamins, herbs and foods, your health can continue to improve over time, as vibrant new tissues replace old cells. Our patients often feel increasing vitality as medical tests get better and better, year after year."
- Dr. Rachelle Herdman