We prefer this brand because…...
Berberine Complex provides a highly potent extract of the active constituent of barberry, Oregon grape root, and goldenseal. Including extracts of all three of these related botanicals in one preparation increases the amount of berberine per dose, and brings in all the other minor ingredients of each plant, such as hydrastine and canadine, which can act synergistically to enhance the effect of berberine. In our practice, we've seen better results with this blend for digestive and immune health than with one herb in isolation. Standardization of the concentrate ensures that each dose contains a consistent amount of active alkaloids. Many of our patients prefer this capsule concentrate because these herbs in liquid tinctures are bitter and can stain clothing if spilled.
About berberine
Berberine is a bitter-tasting, yellow, plant alkaloid with a long history of medicinal use in Chinese and Ayurvedic medicine. Berberine is present in the roots, rhizomes and stem bark of various plants including Hydrastis canadensis (goldenseal), Coptis chinensis (golden-thread), Berberis aquifolium (Oregon grape), Berberis vulgaris (barberry). Berberine has also been used historically as a yellow dye. Berberine is an immune booster that enhances white blood cell macrophage activity. It has excellent antiviral and antimicrobial action: it suppresses growth of Gram-positive and Gram-negative bactieria, prevents them adhering to nasal linings and other tissues, and sometimes kills them. It attacks fungal and protozoan pathogens, by preventing their RNA functions and protein synthesis. Hence berberine is a potent remedy for recurring colds, flu, sintusitis, and vaginal yeast. It is also a useful astringent, meaning it dries excessive secretions, for sintusitis and colds. In the digestive tract, berberine fosters the healthy growth of helpful probiotics (good bacteria), and discourages yeast and noxious microbes. It is an effective remedy for gas, bloating, IBS and diarrhea. Berberine also helps to stabilize blood sugar and reduce insulin resistance.
Contents
2 caps provide:Barberry (Berberis vulgaris) Root Extract 6:1400 mg, Oregon Grape (Berberis aquifolium) Root Extract 6:1400 mg, Goldenseal (Hydrastis canadensis) Root and Rhizome Extract standardized to contain 5% total alkaloids including berberine, hydrastine, and canadine: 100 mg.
Other Ingredients: vegetable capsule (modified cellulose), cellulose, magnesium stearate, and silicon dioxide.
Free of: - This product does Not contain: artificial coloring, artificial flavoring, dairy products, ingredients of animal origin, gluten, wheat, yeast, preservatives, salt, soy, sugar.
Cautions
Always take natural remedies under the supervision of your health care provider. Do not use berberine without the advice of your healthcare professional if you are taking antidiabetic medicines; or anticoagulants or blood pressure drugs, as berberine can rarely lower blood pressure or slightly increase clotting times. Rarely diarrhea can occur with large doses of berberine. Avoid during pregnancy as it may cause uterine contractions, and during lactation unless under the guidance of your physician.
Testimonials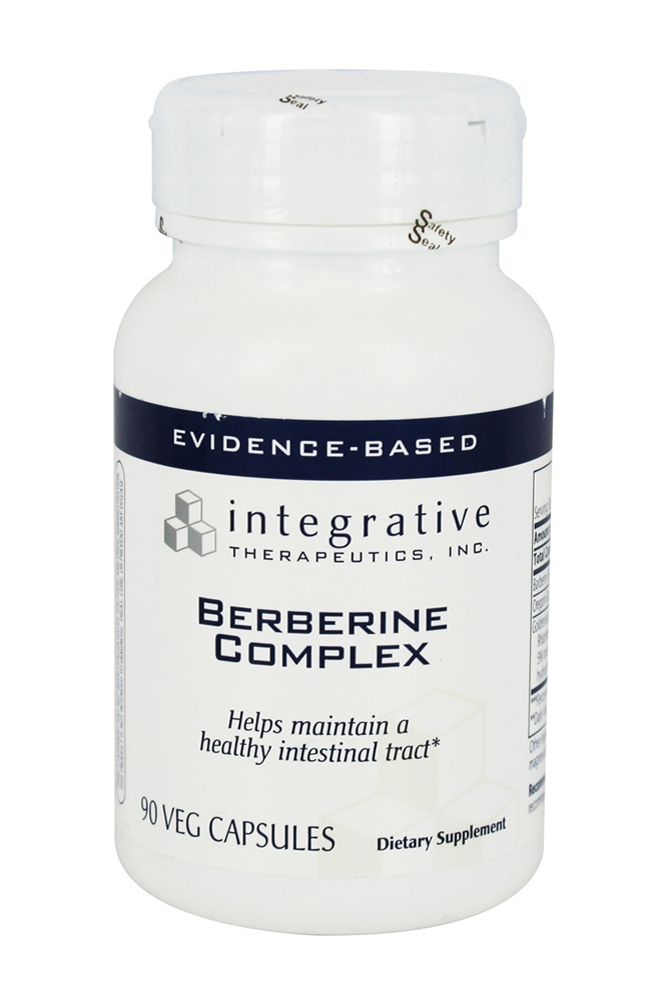 Shipping:
Free shipping for purchases of $40 and over
Benefits of Consistency
"With the right vitamins, herbs and foods, your health can continue to improve over time, as vibrant new tissues replace old cells. Our patients often feel increasing vitality as medical tests get better and better, year after year."
- Dr. Rachelle Herdman